The Holiday Surprise
Axiom is giving away THREE BIG PRIZES. The first is a set of Axiom coffee mugs. The second is a $25 Amazon Gift Card, and finally the GRAND PRIZE is a pair of brand new AirPods with the all new design. For more information about the new AirPods, click here. There are multiple ways to enter so, if you enter using all 5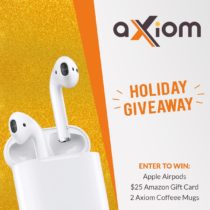 steps, you have effectively entered to win 5 times. We highly recommend you do all 5 ways to maximize your chances! Winners will be announced in the next Blog Post.
Here's How You Enter In:
(1 step=1 enter)
Step 1: Follow us on LinkedIn, Twitter, and Facebook.
Step 2: Like our most recent post on LinkedIn, Twitter and Facebook.
Step 3: Share our most recent post that you liked.
Step 4: Write a Google Review for Axiom.
Step 5: Share this post!
If you want to lean more about who we are, you can click here!