Who Will Win? 
Register now to attend the live webinar 
On Wednesday, October 14th at 9am EST, we will be discussing Microsoft Outlook on a desktop vs.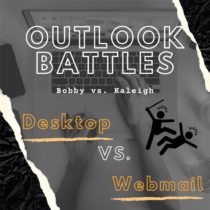 Outlook on a browser. Bobby and Kaleigh are going head-to-head to debate the pros and cons of both. Bobby is an avid desktop mail user and Kaleigh is an avid web-mail user. Which is better? Come find out on the 15th with us.