When it comes to clients, we have the best! This year has been hard on all of us, but we have worked with every one of our clients to make their businesses continue to succeed. We have added a few new clients this year and we are so excited to have them with us! Dr. Fulghum's office is one of our newest clients and we are thrilled to have them on board. His office was hit with a terrible lightning storm which destroyed their server. They needed major IT assistance.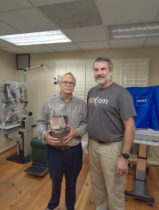 Dr. Fulghum's office gave us a call and Bobby was ready to help. Bobby came into their office that same day to assess their server and figure out what our team needed to do to get them back up and running. From there, our engineers swooped in, conquered the server issue and their office is now up and running smoothly. We are so glad that Dr. Fulghum called us in a time of need and trusted us to get the job done. We don't take that opportunity lightly and we thank him and his office for the opportunity to help them succeed.
We also want to say a special thank you to all our clients who continue to recommend us to others. It means the world to us and we do not take that lightly. Our team works very hard to make every client happy and ready to work efficiently. We will continue to strive for excellence with anyone you refer to us. Thank you to all our wonderful clients!