Do you want to protect your child from the dangers of the internet, but don't know how to start? The internet is full of opportunities, knowledge, and connections, but it is also dangerous. These days, kids have access to many Web sites at their fingertips. There are opportunities to protect digital devices that we give our children and download software that can help them stay safe. In this article, we want to discuss what to warn your children about, how to use technology safely, and how to monitor devices.
Teaching Your Child About Security
It is important for us to educate our children on what threat actors will attempt to do on their machines. Many threat actors will attempt to email children just like they do to adults. It takes one link click to allow viruses onto their machine. Threat actors will even text the children to get information. It is also critical for children to be aware of what they are downloading on their computer before they press the button. Many threat actors will attempt to hide their links in gaming sites. Many kids download a virus onto their machines when they are just trying to download a video game.
Using Technology Safely
With education of surfing etiquette, it is as important for them to learn how to physically use the devices safely. Allowing computers and devices into their room can open challenges in monitoring their activity. If a child has a desktop computer in their room, we recommend facing the monitor towards the door. A great solution to this is creating guidelines for children to use their devices in shared areas but they can use headphones to stay private. Another way you can control your child's computer or phone activity is by setting an activity timer on their devices. You can learn how to do that with this link.
How to Monitor Your Child's Devices
Another factor for your child's technological safety is device monitoring. There is software and applications that you can install that will monitor your child's activity. With that being said, there are many options when it comes to device monitoring, but none of them will catch EVERYTHING. One option is an application that you can install onto any device that will monitor their surfing or application activity and report it to you. An example of one of these apps is Bark. The other option is a firewall on your router. This will protect any device under your Wi-Fi. An example of this is a NETGEAR Blackhawk, which will sit in front of your internet router allowing you to control internet access using the built in parental control.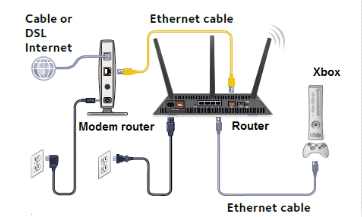 In the end, it is important to educate our children on how to safely use the internet and devices. This will benefit them greatly and prepare them for the future. If you are interested in learning more about parental control apps, you can check out this video.