At the start of this year, we gained a great new addition to our team. Jackie is our project manager and keeps everyone in line. We love the energy she brings to our team and she always keeps us on track. I am sure many of you have already chatted with her on the phone or by email. We can't wait to see her grow within our team.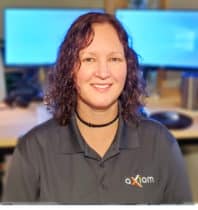 Jackie moved to Florida when she was very young and her first ever job was at a YMCA. She loves animals! Over the years, she has had an iguana, horse, ferret, birds, turtles, fish-salt and fresh water, guinea pigs, hamsters, cats and dogs. She has been married to her husband for 28 years and they have two daughters and a son-in-law. Jackie fits right into our team of movie fans and enjoys Sci-Fi movies the most. Our team loves to quote movies any time they can and she definitely fits right in! Last year, she followed her dream of moving to the mountains to live in a log cabin. We love hearing all about her new adventures in our team meetings.
It has been such a treat to have her on our team and we love having her manage our projects.