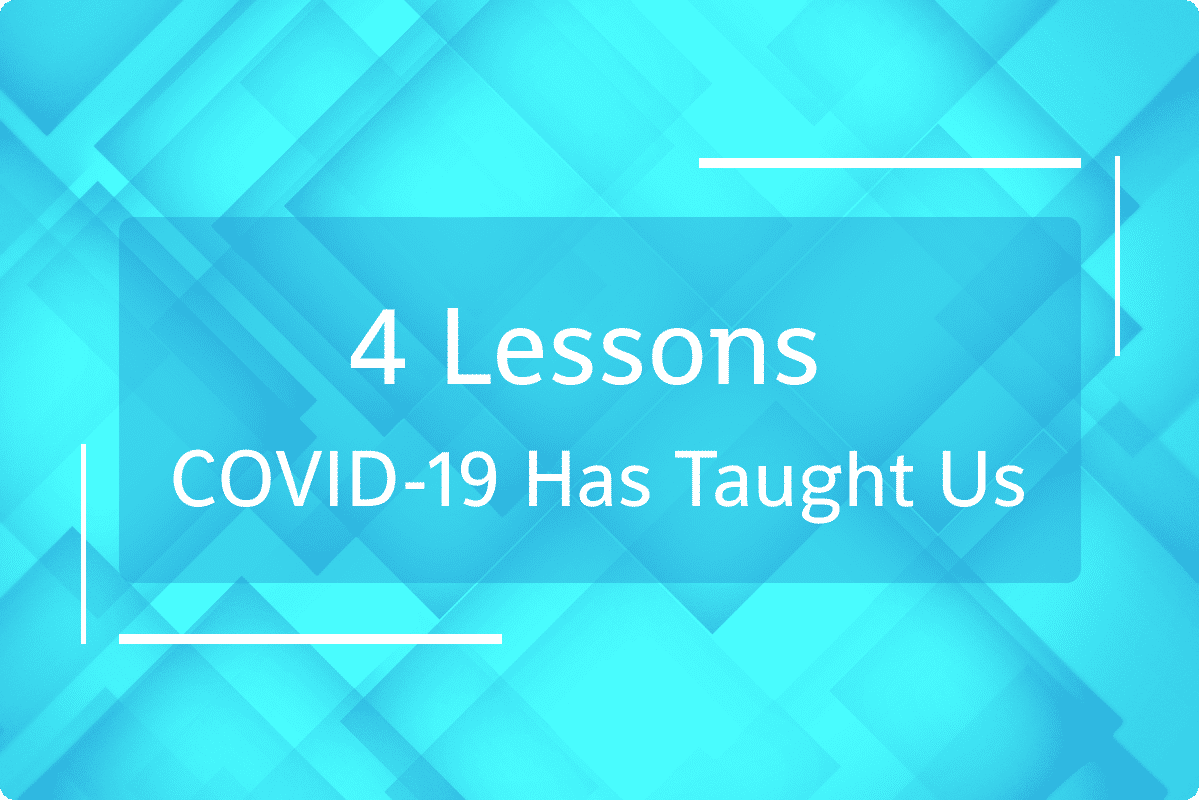 Within the last few months, life as we know it has changed dramatically. COVID-19 has not only affected the health of millions of people around the world, but it has also greatly impacted businesses across every industry. Jobs that were once thought to require an in-person presence turned out to not be so reliant on physical location after all, leaving many people working from home.
Companies are gaining more trust in working remotely, new technologies, and the importance of a happy work environment. Still, some companies have been able to adapt better and more quickly than others. 
Although the pandemic has been difficult for everyone, it's also emphasized some important business and technology lessons. Here are some of the biggest lessons COVID-19 has taught us.
1. Remote work is here to stay.
Prior to COVID-19, many companies were skeptical about the effectiveness of working remotely. Now that many have been forced to go fully remote, they are starting to see that remote work and increased productivity go hand in hand.  
Many organizations are seeing what's possible with remote work, and when the option to return to the office is available, many will stay in either a hybrid- or fully-remote environment. Whether or not most of the country is in lockdown, remote work is here to stay.
Going forward, companies will have to navigate a shift to remote work by setting up long-term tech solutions, including at-home security features and remote collaboration tools. Some of these features might include:
Enterprise-grade routers and firewalls to enable efficient internet use and security (see some of our

tips for common WiFi problems here

)

VPNs for secure connections

Communication tools like Microsoft Teams, Skype, or Zoom

Cloud solutions for more accessible access to files and secure backups
These are just a few of the tools that can help set your business up for remote work success.
2. Preparation enables flexibility.
It's said that if you stay ready, you never have to get ready. There are many companies that had never considered going remote and were left fumbling when the time came to do so. To face challenging times successfully, preparation is key. 
When you have the right tech solutions in place ahead of time, it becomes much easier to keep your business running through difficult times, no matter what the future brings. If disaster strikes, you'll have the tools you need to communicate with your team and access files remotely.
At Axiom, we set our clients up with the remote solutions they need, so when things go wrong, they will have the flexibility they need to weather the storm. Preparation allows for quick responses. As an experienced IT company in Jacksonville, our responsive local team can help you achieve this flexibility and prepare for emergencies.
3. Backups are non-negotiable.
Since many companies are transitioning to remote work environments, there has been a rise in cyber attacks. There has also been an increase in other risk factors like theft, hardware or software failure, and user error. That is why it is absolutely crucial that your organization protects its data and employee privacy.
One essential security strategy is to frequently backup important data. We've always known that backups are important, but the pandemic shows that disasters are not as few and far between as we may think. You need reliable backups to ensure your data is safe and your company is prepared against the eventuality of equipment failure or cyber attacks.
In the event of a data breach, backups are useful. They allow you to stay online without having to interrupt your workflow and give you the opportunity to recover your lost data quickly. Having a reliable cloud system to store the backups on comes in especially handy for remote workers as well. 
4. Communication is everything.
Communication is key, both with customers and among team members. Remote work just makes that more clear. Gone are the days of swinging by someone's office to get approval on an important step of a project. Remote teams need better options, like video calls and instant messaging, to speak with each other.
Since most of us are remote workers, businesses need to have systems in place for efficient internal and external communication, especially in case of another crisis. Email alone does not always cut it. Your team members should be able to communicate quickly, especially on urgent matters. 
We may not be able to predict how the business landscape will look six months from now, but we can definitely adapt to the way things are now and prepare for foreseeable challenges. That is the key. Being adaptable will help you thrive in tough situations. By learning from these experiences with the challenge of the pandemic, you will be equipped to reach success in this new business landscape.