Start Your Day Off Right With Breakfast and Office 365!
See Office 365 Like Never Before
Axiom would like to personally invite you and one or two members of your team to attend an Office365 presentation focused on security and customization.
Axiom has been working with Office 365 since it was called 'Business Productivity Online Services' and has been helping clients leverage the application since its inception. We have partnered with the Microsoft Store to present a unique and fun event where we will be sharing real life Office 365 experiences with regards to security and some of the possible customization that might surprise you.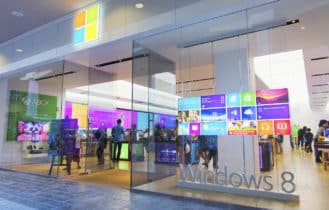 Many companies are only interested in security after they have been victims of an exploit because they do not want to deal with the possible headaches that are involved in tightening up their Office 365 environment. We will be presenting some options that can be implemented to help keep your data safe. We will also be discussing the potential benefits to your organization that results from some of these options.
It is often over looked how customizable Office 365 can become through the leveraging of SharePoint. There are plenty of small business flows or line of business needs that can be addressed for any size organization. Most subscriptions with Office 365 already include the SharePoint product, and it is typically the most underutilized feature that could help transform your business. We will be demonstrating just some of its capabilities, and our hope is that this will be an eye opener for you, and how Sharepoint can be utilized in your company
Axiom remains committed to education and helping our clients see how they can get the most out of their work day. Do not miss your chance to see how you can improve your efficiency by using Microsoft Office 365.
Knowing that your time is valuable, breakfast will be provided by Panera Bread and we will have a certified barista on site to make specialty espresso drinks. Come join us at this unique experience.
What to expect:
No sales pitch
Custom session based on real life experience working with our clients over the years
Time to play and explore in the Microsoft store
A chance to see some Office 365 capabilities that you might not have expected
Fun!
Location: Microsoft Store at the Town Center
Date: Sept 28th
Address:
4791 River City Dr #113
Jacksonville, FL 32246
Basic Schedule:
Doors Open at 9am with breakfast and coffee
Session starts at 9:30am and ends at 10:45am
Microsoft introduction 9:30am – 9:45am
Security discussion/presentation 9:45am – 10:15am
Customization of SharePoint Office 365 10:15am -10:45am
This session is great way for users to better understand the technology solutions they have access to, which can lead to process improvements and improved work environments.
This exclusive session is only open to 20 participants.
I look forward to seeing you soon!