In honor of National Hat Day coming around the corner, we wanted to share with all of you all the hats we wear here at Axiom. Now, we don't me hats literally; we mean it metaphorically. Axiom not only helps you solve problems, but we also give you security, keep your data backed up, research all the best options for your IT needs, and try our best to keep a smile on your face. I know. That's a lot of hats to wear, but we love wearing all of them.
Problem Solving & Security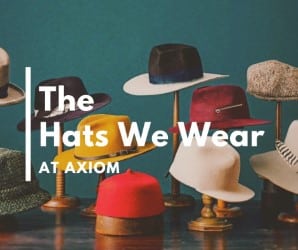 We enjoy solving problems and we also love to be the people you want to call when you have any IT issues. Each one of our team members have excellent problem-solving skills and we even love testing these skills, occasionally, by going to escape rooms around Jacksonville. Check out our blog about that here. We enjoy making IT problems go away and we don't take that job lightly. Security is also very important to us. We like to stop problems from happening before they ever even happen. This is what security is for. A firewall is so important and should not be disregarded. You should be able to work safely and happily knowing that you are secure in our hands.
Backups & Research
             Have you ever lost important data and wished so badly that you could get it back? Well, that's what backups are for and we make sure all our clients are aware of this. We closely monitor our backups and make sure that, if a catastrophe happened, data would still be there and ready to go. It is also important to closely monitor new products and the latest updates to make sure that we always the best. Therefore, research is quite important to us. We are constantly researching for the best options for our clients and we are open to new opportunities if they seem best fit.
Keep That Smile
              Keeping a smile on your face, is important. It also keeps us smiling when we know our clients are happy. We like to put our best foot forward and do it happily. We love what we do, and we do what we love, and I think you can tell by how we carry ourselves. I hope you all have a great National Hat Day on April 15th and continue to remember that we, here at Axiom, have many hats to wear for all of your IT needs.